KAYAK DIVING PHOTOS

Autologic Divers at Leo Carillo

---

Ralph gets ready on his Scupper Pro

---

Early morning -and- Surfing my XT at Leo

---

La Bufadora, Mexico

---

Night dive at Channel Islands Harbor

---

Ready, Set, Go!

---

Good halibut days at Leo and Pt. Dume!
Notice that one halibut is a "righty" and the other is a "lefty".
Both are 44 inches long and weigh approximately 30 pounds!

---

Diving at Leo Carillo

---

Beautiful Pt. Dume days!

---

Paddlers <- and -> Divers

---

Diving at Nicholas Canyon

---

Two tank dive on the new Drifter

---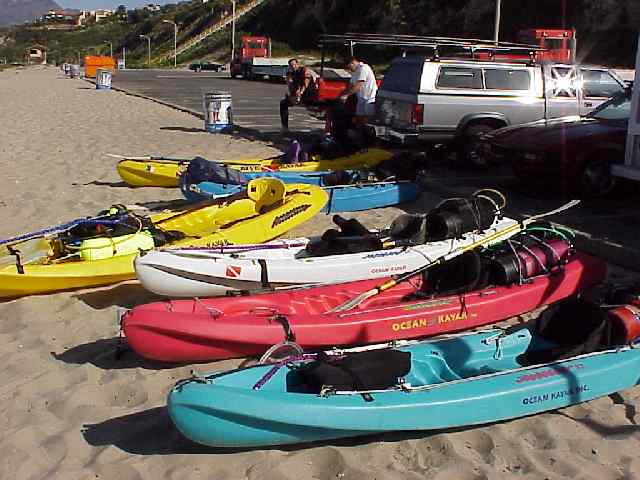 Ocean Kayak Dive Day!!! (typical)
There are two tanks on all six of these kayaks! The tanks are both secured in the tank well on the four XTs, with the fully outfitted tank resting on top and off to the side of the second tank. Placement of the weightbelt to the opposite side in the forward hatch counteracts the off-balance created by this arrangement. On the Frenzy, the outfitted tank is in the tank well and the second tank is secured in the foot-well area. On the Malibu Two, both tanks are set side-by-side in the forward seating area and the paddlers' seat is in the rear-most position. This is the best arangement possible for the M2.

---
All the photographs on this page, except the last two, are pictures of pictures! I used my Sony digital camera, described on my Florida Birds & Bugs page, to take pictures of 4x5 photo prints I had taken with my Nikonus IV-A underwater camera some years ago. Not bad if you use a tripod and can get the lighting just right!
---
---